Newsbulletin / Boletín de Noticias
No. 1591
Español / English
21 – 08 – 2011
Publicaciones Recientes
Mayo 2011
Franz J. T. Lee
Venezuela y Africa:
¿Quo Vadis?

Jutta Schmitt
Guerras Nuevas
Viejos Actores
Disponibles en el Postgrado de Ciencias Políticas, Edificio de Criminología, Secretariado CEPSAL, ULA, Mérida
Español:
English:
---
Español
---
"Hay levantamientos en todas partes del mundo. Todo la gente está harta"
Socialist Worker. Los disturbios de los pobres y desposeídos se han extendido a través de Gran Bretaña todo esta semana. A la policía le ha costado acabar con un levantamiento en contra de la pobreza y su brutalidad racista. Los disturbios revelan las tensiones sociales profundamente arraigadas en el corazón de la Gran Bretaña conservadora.
Las calles no eran ya de la policía sino que pertenecían a los colectivos enfadados y desencantados y a los pobres. Un joven afrocaribeño que señalaba a la policía comentó a Socialist Worker: "se supone que estas personas deben protegernos a nosotros, pero cuando me los encuentro por la noche corro hacia el lado contrario ¿Cómo puede cualquiera de nosotros sentirse seguro cuando están disparando a la gente?".
La chispa que ha encendido el fuego fue el asesinato a tiros de Mark Duggan por la policía en Tottenham el jueves de la semana pasada. El sábado por la noche se realizó una marcha pacifica como vigilia hacia la comisaría de policía. La gente estaba furiosa ya que la policía no se había puesto en contacto con nadie, ni con los padres del muerto.
Vencido
Más tarde, en un callejón sin salida, una joven de 16 años de edad, fue golpeada por una serie de agentes de la policía. Fue entonces cuando comenzaron los disturbios. Un residente de Tottenham dijo: "La policía debe dejar de disparar primero y preguntar después. Esta no es la primera vez que algo así ha sucedido. Están Cynthia Jarrett en 1980 y Jean Charles de Menezes, ahora este chico. Si esos hechos no hubiesen sucedido, entonces esta calle principal no estaría destruida como ahora. Estos edificios se pueden reconstruir, la vida de ese hombre se ha ido y no volverá".
Luego, el domingo por la noche en Enfield, Brixton y Chingford Mount en Waltham Forest también se levantaron. La noche siguiente las batallas continuaron durante horas en Londres y otras ciudades del interior.
Este es el mayor levantamiento urbano en Gran Bretaña desde hace décadas. Años de ardiente rabia se han derramado. La policía se lanzó a las calles de Londres y cuando avanzaron fueron recibidos con misiles. Adam, un estudiante de la universidad, dijo, "esto no es sobre razas, sino sobre clases sociales". Un adolescente en los disturbios agregó: "Yo soy negro y tengo un montón de amigos blancos. Pero aquí todos somos del mismo color. Estamos hartos de la policía. Creen que son superiores a nosotros, pero deberían ser inferiores".
Un hombre blanco, alrededor de 50 años, dijo, "al Gobierno le importamos una mierda. Mira a tu alrededor, aquí no sólo hay personas de color participando sino todo el mundo." En Hackney, el lunes, la revuelta se prolongó durante horas. Cientos de jóvenes huyan de la policía, pero un autobús estaba bloqueando su camino. Lo rodearon y de repente se dieron cuenta de que la conductora estaba dentro. Dos jóvenes manifestantes llamaron a la puerta y le hicieron señales para que bajase. Cuando la conductora salió del autobús todo el mundo aplaudió. Sólo entonces lo dañaron.
Dos pensionistas afrocaribeños estaban mirando desde la calle. Uno de ellos dijo, "no se trata sólo de este país, hay revueltas por todas partes. Es el mundo entero. Todo el mundo está harto, nadie tiene nada".
Los medios de comunicación y la clase política han respondido con sus prejuicios de clase. Todos los disturbios contienen elementos contradictorios, precisamente porque son espontáneos. Surgen de repente pero son parte de una revuelta general contra una élite arrogante que vive una vida de privilegio y tiene desprecio por los pobres.
La gente robó. En algunos casos, robaron cosas necesarias, en otros, artículos de lujo, los mismos sin los que se supone que no nos sentiremos completos, como siempre nos están bombardeando. Un testigo dijo: "esto es lo más poderoso que muchos de estos muchachos se sentirán en sus vidas. Esa es la verdadera tragedia ".
En verano se supone que nos olvidamos de la política, un momento para olvidarnos del escuchas telefónicas, la corrupción policial y los ataques del Gobierno a los pobres. Pero al contrario, los disturbios han sumido al Gobierno en una nueva crisis. Los disturbios han asustado a la clase dirigente, que se ha escondido en sus casas de vacaciones para condenar la delincuencia. "Estamos pasando por tiempos difíciles y todos los políticos están de vacaciones", dijo un espectador. "Ellos piensan que todos somos una mierda"
Hay indicios de que esto iba a suceder. La eliminación de la asignación para la escolaridad, EMA, llevó a los estudiantes militantes a las protestas del año pasado. Los recortes están avanzando y la retórica de que "todos estamos juntos en esto" suena vacía a día de hoy. Incluso Nick Clegg predijo "el malestar de estilo griego" si hay ataques de ese estilo.
Un hombre dijo a Socialist Worker, "hemos intentado acabar con este Gobierno con los disturbios estudiantiles pero los reprimieron. No me sorprendería si trajesen al ejército e impusiesen la ley marcial". En el momento de escribir la policía no ha logrado el control. Cuando lo hagan, querrán su recompensa. Y ya trataron de hacerlo durante los disturbios.
Un trabajador dijo a Socialist Worker, "estoy sorprendido de que haya pasado tanto tiempo sin que esto pasara. La policía cree que puede salirse con la suya. Una docena de ellos llamó a un chico joven que salió de una tienda destrozado. Lo esposaron y le maltrataron. Tenemos que hacer algo con el sistema."
Luchado
Sólo cuando la gente ha luchado contra el racismo y la desigualdad la gente en el poder se ha visto obligada a reconocer el problema. Esta ha sido una revuelta de los pobres. Un autobús quemado en Peckham en el sur de Londres, Primark, Iceland y Clarks fueron saqueados. En Walworth Road, al sur de Londres, las casas de empeño y de Argos fueron destruidas.
Un conductor del autobús dijo a Socialist Worker, "no es sólo la policía, es Cameron. Nadie tiene nada, nadie tiene las pensiones, ni nada que esperar. Ellos no sólo deben luchar contra la policía. Se debe luchar contra el Gobierno."
Gracias a Tash Shifrin, Jonny Jones, Alizadeh Ali, Steve Henshall y Bogg Sam por los informes.
Artículo publicado en el Socialist Worker publicación semanal del Socialist Workers Party, organización hermana de En lucha en Gran Bretaña.
Traducción: Angie Gago
http://www.enlucha.org/site/?q=node/16294
---
Un cambio cualitativo en la crisis del capitalismo mundial
Por Nick Beams
15 Agosto 2011
La reciente degradación de la calificación crediticia de los Estados Unidos el pasado viernes significa que el 5 de Agosto del 2011será reconocido como uno de los puntos de cambio claves en la histórica crisis del capitalismo estadounidense y mundial junto con el 15 de Setiembre del 2008, el día del colapso de Lehman Brothers, y el 15 de Agosto de 1971, el día en que el presidente Nixon retiró el respaldo en oro del dólar estadounidense.
Estas tres fechas están conectadas causalmente por una cadena de eventos que registra el declive histórico del capitalismo estadounidense, y con ello, todo el orden capitalista global.
El motivo de corto plazo para la degradación por parte de Standard and Poor's fue anunciado por la agencia calificadora de riesgo citando: una insatisfacción con la cantidad de recortes a Medicare y otros programas de ayuda social anunciados en el acuerdo entre la administración Obama y el Congreso.
La degradación fue seguida por una histeria en los mercados bursátiles internacionales debido a los rumores que se esparcieron en los círculos financieros sobre degradaciones de créditos a otros países—Francia fue uno de los mencionados—y el colapso de los principales bancos.
La decisión de la Junta de la Reserva Federal de EE.UU. de continuar su política de tasa de interés ultra-bajas por lo menos otros dos años—una propia admisión de que sus políticas habían fallado y que no había ningún prospecto para la "recuperación" en la economía estadounidense—impulsó a los mercados por un día antes que otros 500 puntos cayesen ayer en Wall Street.
A pesar de que las caídas en el mercado accionarios fueron provocadas, por lo menos en parte, por la degradación de S&P, la misma decisión de la calificadora fue el resultado de profundos procesos históricos que se ven reflejados en la creciente turbulencia financiera. Subrayando el caos del mercado se encuentra el irreversible y prolongado declive en el poderío económico de los Estados Unidos, el cual jugó el rol clave en estabilizar al capitalismo mundial después de la Segunda Guerra Mundial.
Visto así, la disminución de la calificación de crédito de los EE.UU. no es simplemente un fenómeno estadounidense. Es una expresión concentrada de la crisis del orden capitalista global.
La primera señal vital del declive estadounidense se dio exactamente hace 40 año, cuando el presidente Nixon apareció en televisión la noche de un Domingo para anunciarle al mundo que de ahora en adelante los EE.UU. no cumpliría sus compromisos bajo el tratado de Bretton Woods de 1944 para canjear los dólares estadounidenses circulando por el resto del mundo por oro al precio fijo de 35 dólares por onza. La decisión quebrantó el sistema de intercambio fijo de dividas que había desempeñado un rol tan decisivo en revivir el comercio y las inversiones globales después de la devastación de la década de 1930.
La causa inmediata de la decisión fue el desarrollo de un déficit comercial estadounidense. Pero el déficit mismo fue el resultado de un problema más fundamental en el sistema de Bretton Woods que había sido notado en la década previa por el economista belga Robert Triffin. Este había señalado que en condiciones en las cuales los dólares estadounidenses funcionaran efectivamente como moneda mundial, el mantenimiento de liquidez internacional dictaba la necesidad por una salida de dólares desde los EE.UU. Pero esa misma salida y la acumulación de bienes en dólares fuera de los EE.UU., muy por encima de sus valores en oro, minaban efectivamente la fundación del sistema de Bretton Woods: el compromiso de los Estados Unidos de canjear dólares por oro.
La eliminación del respaldo de oro no eliminó el rol del dólar como la moneda de reserva global. Pero sí significó que el sistema monetario internacional había perdido su ancla y se volvería cada vez más volátil. Aquella inestabilidad fue reflejada en una serie de tormentas financieras: la caída del dólar estadounidense en 1979, lo que llevó a la imposición de alzas de tasas de interés récord por el presidente de la Reserva Federal Paul Volcker; la crisis de la deuda Latino Americana a comienzos de los 1980; y el colapso global de los mercados bursátiles en octubre de 1987, producido, por lo menos en parte, por las diferencias entre las autoridades de EE.UU. y Alemania sobre las políticas de las tasas de interés.
En respuesta al colapso de 1987, el recién nombrado jefe de la Junta de la Reserva Federal estadounidense, Alan Greenspan, instituyó la política que se desplegaría de ahora en adelante: cualquier crisis financiera sería confrontada por el Banco Central mediante el suministro de dinero barato para las principales instituciones y bancos financieros.
A pesar de que esta política ayudó a estimular el crecimiento de la economía estadounidense por los próximos 20 años, lo hizo promoviendo formas cada vez más parasíticas de acumulación. El capitalismo estadounidense había llegado a la preeminencia global sobre la base de su producción industrial y los grandes avances que facilitó en la productividad del trabajo. Ahora la industria estaba siendo destruida y externalizada mientras que el financiamiento reemplazó a la producción como fuente principal de ganancias, un proceso que asumió formas grotescas en las burbujas de vivienda y sub-prime (las hipotecas basura).
Incluso cuando la economía estadounidense experimentó expansión durante los 1990 y en la primera década del nuevo siglo, este mismo crecimiento ocultó una contradicción cada vez más profunda: la moneda de la reserva mundial, el dólar, era la moneda de la nación más endeudada del mundo. Esto jamás había ocurrido antes en la historia del capitalismo mundial.
En las décadas previas al estallido de la Primera Guerra Mundial de 1914, la economía global reposaba sobre la libra británica. La libra esterlina era efectivamente tan buena como el oro porque Gran Bretaña era el principal suministrador de capital para el resto del mundo. Aunque había sido superado como "el taller del mundo", era aún el principal financiero del mundo, tanto por el rol global de sus bancos y casas financieras, como también por los amplios recursos financieros que era capaz de extraer de sus colonias, sobre todas la India.
La primera guerra mundial asestó un gran golpe a la posición financiera británica de la cual nunca pudo recuperarse. Debido a la ausencia de una moneda que pudiese funcionar como moneda mundial, el sistema financiero internacional se desintegró en el período entre las guerras y la economía mundial se fracturó entre bloques de comercio y moneda rivales. Sólo con el surgimiento del rol dominante global de los EE.UU. después de la Segunda Guerra Mundial se estableció un nuevo sistema financiero internacional.
Este sistema hoy se encuentra en un estado avanzado de desintegración como resultado de la decadencia y putrefacción de su pilar central, la economía estadounidense.
El significado de la degradación del crédito ha sido descartado por algunos comentaristas debido a que, en las palabras de Greenspan existe "cero probabilidades" de moratoria porque los EE.UU. "siempre pueden imprimir dinero" para pagar sus deudas. Una perspectiva tan ignorante como esta pasa por encima el hecho de que incluso antes de que la cuestión de una moratoria estadounidense surgiera (y dada la moratoria del 15 de Agosto de 1971 tal evento puede tomar lugar antes de que lo que muchos puedan imaginarse) la decisión socava aún más el sistema financiero global.
El capitalismo mundial se encuentra operando ahora sin un sistema monetario estable. Bajo el capitalismo, el dinero tiene que desempeñar dos funciones principales: como un medio de intercambio y como depósito (medida) de valor. Ambas de estas funciones están siendo completamente quebrantadas por la continua devaluación del dólar estadounidense, lo cual conlleva consecuencias de largo alcance.
El impacto en su función como medio de intercambio se ve reflejado en la subida de precios en los productos básicos que se intercambian globalmente como la comida y el combustible, lo cual lleva a la inflación por todo el mundo, sobre todo en los denominados países menos desarrollados, provocando una erupción de la lucha de clases como puede verse tan claro en el Medio Oriente.
Asimismo, la función de depósito de valor está siendo socavada debido a que el dólar está cayendo en contra de todas las principales monedas como resultado de las políticas de dinero barato del Fed. No es de extrañar que las autoridades chinas, que tienen más de $1.2 billones invertidos en la deuda estadounidense, estén demandando que las autoridades monetarias estadounidenses pongan a la moneda bajo control. Cada día que cae valor de los activos financieros chinos invertidos en los mercados estadounidenses, trae más de cerca al momento en que estas pérdidas impacten a la estabilidad del ya frágil sistema financiero y bancario chino.
Las autoridades chinas han vuelto a llamar por el establecimiento de una nueva moneda de reserva global, no vinculada directamente a los EE.UU. o a cualquier otra moneda nacional. Pero tal como el destino del euro confirma, hoy siendo desgarrado por rivalidades nacionales y conflictos entre los poderes de la eurozona, no existe ningún prospecto para tal desarrollo. Ninguna moneda, agrupamiento de monedas o síntesis de monedas puede reemplazar al dólar como moneda mundial.
No hay ningún conjunto de políticas económicas o mecanismos que puedan resolver la crisis presente. La experiencia histórica señala al retorno, y de una forma incluso más explosiva, a las condiciones de los 1930.
En aquel tiempo, el mundo se fracturó en bloques económicos rivales, llevando a la guerra mundial, la más destructiva en la historia. Hoy, mientras ese pronóstico se vislumbra una vez más, la clase trabajadora debe intervenir. El caos del sistema capitalista y los peligrosos que plantea al futuro de la humanidad—la pobreza masiva, la depresión y la guerra—deben terminar a través de la toma de poder político por la clase trabajadora y el derrocamiento del sistema capitalista a través del establecimiento del socialismo internacional. El cumplimiento de esta perspectiva requiere la construcción del Comité Internacional de la Cuarta Internacional como el partido mundial de la revolución socialista.
http://www.wsws.org/es/articles/2011/aug2011/ecsp-a15.shtml
---
Más de 900.000 millones de euros evaporados en la Bolsa en dos días
Más de 900.000 millones de euros se evaporaron en Bolsa en dos días en Estados Unidos y Europa, según las estimaciones de analistas de Dexia Securities, la filial de corretaje del banco franco-belga Dexia. La factura de la tormenta que se abatió el viernes y el lunes en los mercados financieros se eleva a 917.000 millones de euros para las empresas en ambos lados del Atlántico, precisa este documento, que habla del "costo de los grandes miedos del año 2011".
El viernes 5 de agosto, las Bolsas europeas cayeron por el temor a la situación de la economía estadounidense y el miedo al contagio de la crisis de la deuda en la Eurozona.
Ese día, Londres perdió 2,71%, Fráncfort 2,78% y París 1,26%. Las pérdidas registradas en una semana en Fráncfort fueron del 13%, en Londres del 10% y en París del 11%.
El lunes 8 de agosto, los mercados bursátiles fueron presa del miedo después de la degradación histórica de la nota de la deuda en Estados Unidos. La Bolsa de Nueva York cayó 5,55%, su peor sesión desde diciembre de 2008. En Europa, Fráncfort cayó 5,02%, París 4,68% y Londres 3,39%.
"Como se puede ver, la factura es pesada", dijo a la AFP Jean-Paul Pierret de Dexia Securities.
En siete meses, se han perdido unos 3,4 billones de euros, lo que representa un tercio del Producto Interno Bruto en Estados Unidos (14.500 millones de dólares), según Pierret.
Estas estimaciones tienen en cuenta las pérdidas de 500 empresas estadounidenses agrupadas en el índice SP 500 y 600 empresas europeas censadas por el índice DJ Stoxx 600, precisa Dexia Securities.
Todos los sectores de la economía están representados, desde los servicios a las finanzas pasando por la salud, el transporte, el lujo y el consumo.
Algunas de las empresas son los grupos energéticos estadounidense ExxonMobil, el francés Total y el británico BP; los bancos estadounidenses Citigroup y Goldman Sachs, el francés BNP Paribas, el británico Barclays, el español Banco Santander, el alemán Deutsche Bank y los laboratorios farmacéuticos Merck y Sanofi. AFP
http://informe21.com/~mgessen/crisis-economica/mas-900000-millones-euros-evaporados-bolsa-dos-dias
---
Gobierno de Libia desmiente llegada de rebeldes a Tripoli y afirma que la ciudad está bajo su control
Sábado, 20 de Agosto de 2011 22:49
TeleSUR
El Gobierno de Libia afirmó este sábado que Trípoli está segura y bajo su control, luego que se registraran nuevas explosiones y enfrentamientos en distintas zonas de la ciudad, y se difundiera un pronunciamiento de los rebeldes que sostenía que se encontraban ya en la capital.

El enviado especial de teleSUR en Trípoli, Rolando Segura informó a través de su cuenta en Twitter que "el vocero Gobierno" Musa Ibrahim dijo que la "capital #Libia está bajo control del Gobierno".

Ante lo dicho por rebeldes, reunidos en el llamado Consejo Nacional de Transición (CNT) sobre su llegada a Trípoli, Ibrahim dijo que la capital es segura.

"Voceros rebeldes dicen que están en #Trípoli esta noche, vocero gobierno #Libia desmiente y dice que capital es segura", escribió el periodista.

En conferencia de prensa, el portavoz oficial dijo que "#Trípoli es seguro y carretera costa este-oeste 'bajo control'", indicó el reportero a través de la red social.

"TV local #Libia trasmite a pantalla partida imágenes decenas personas Plaza Verde y Bab Al Aziziya. Mientras rebeldes dicen estar en #Trípoli", señaló.

Según el CNT, "el final" del líder libio, Muammar Al Gaddafi, "está cercano".

"Estamos en contacto con el entorno más cercano del coronel Gaddafi (…) Todo demuestra que el final está muy cercano, si Dios lo quiere", declaró el presidente de CNT, Mustafa Abdeljalil, en rueda de prensa.

Varias explosiones e intercambio de disparos pudieron escucharse este sábado por la noche en Trípoli, al tiempo que varios testigos dieron cuenta de "enfrentamientos" en algunos barrios de la capital libia, informaron agencias de noticias internacionales.

El portavoz del régimen libio, Musa Ibrahim, confirmó "pequeños enfrentamientos" con grupos reducidos en barrios como Tajura, Sug Joma o Ben Ashur, no muy lejos del centro de la capital.

Ibrahim indicó que los voluntarios y las fuerzas libias vencieron a los rebeldes y que los enfrentamientos sólo duraron media hora.

"La situación está bajo control", dijo en declaraciones difundidas por la televisión oficial libia.

Ibrahim denunció nuevamente un "ataque mediático" contra el Gobierno de Gaddafi.

Entre tanto, la alianza atlántica continúa con los ataques imperialistas contra territorio libio. El enviado especial de teleSUR informó este sábado que "en #Trípoli 7 muertos y 12 heridos por ataques de #OTAN".

Pese a la disposición del Gobierno libio de negociar y dialogar, la OTAN y sus aliados se niegan a cesar las agresiones, que han sido intensificadas progresivamente y han causado la muerte de mil 300 civiles, entre ellos cerca de 200 niños (cifras actualizadas en julio).

Ante los ataques, gran parte de la población libia aseveró que defenderá a su líder y han realizado masivas manifestaciones en apoyo a la Revolución verde.
http://www.matrizur.org/index.php?option=com_content&view=article&id=13779:gobierno-de-libia-desmiente-llegada-de-rebeldes-a-tripoli-y-afirma-que-la-ciudad-esta-bajo-su-control-&catid=41:mundo&Itemid=60
---
Japón podría intervenir el yen tras superar máximo histórico
Sábado, 20 de Agosto de 2011 13:02
Agencias
Tokio, agosto 20 - El Gobierno nipón podría intervenir el yen después que este viernes se intercambiara momentáneamente en Wall Street en la banda alta de los 75 yenes y superara su mínimo histórico desde la II Guerra Mundial, informó la agencia Kyodo.
Al cierre de la plaza de Nueva York, el dólar se llegó a intercambiar a 75,95 yenes, y rompió su récord de posguerra registrado en 76,25 yenes el pasado 17 de marzo tras el terremoto y posterior tsunami que asoló el noreste del país.

Pese a que el dólar se movió en la banda media de los 76 yenes, las autoridades monetarias japonesas podrían adoptar medidas en el mercado para vender divisa, como ya hicieran el pasado 4 de agosto y debilitar así su moneda, añadió Kyodo.

El viceministro nipón de Finanzas Takehiko Nakao culpó esta pasada semana a los especuladores de la reciente subida del yen.

Existe también la preocupación de que la fortaleza del yen suponga un duro golpe a los exportadores nipones al disminuir su competitividad y reducir sus beneficios en el exterior a la hora de repatriarlos, justo en un momento en el que luchan por recuperarse de los efectos de la tragedia del 11 de marzo.

Las últimas subidas del yen se han producido en medio de la incertidumbre sobre la evolución de la economía global, lastrada por los problemas de deuda en EEUU y Europa.

Japón intervino el pasado 4 de agosto en el mercado de divisas para frenar la subida del yen, en aquel momento en la banda alta de las 77 unidades frente al dólar, y aliviar la presión sobre los exportadores nipones.

El Gobierno desembolsó en ese momento una cifra récord que superó los cuatro billones de yenes (más de 36.300 millones de euros) y cuyos efectos para abaratar la moneda japonesa se disiparon a los pocos días.

En el último año, Japón ha intervenido tres veces en el mercado de divisas para depreciar el yen, cuya subida perjudica a los exportadores japoneses porque hace menos competitivas sus ventas en el exterior y recorta sus beneficios al repatriarlos.
http://www.matrizur.org/index.php?option=com_content&view=article&id=13763:-japon-podria-intervenir-el-yen-tras-superar-maximo-historico-&catid=57:economia-politica-alternativa&Itemid=79
---
Para la Inteligencia Rusa, Facebook es un Arma de Guerra Informática
Un alto funcionario del Servicio Ruso de Seguridad Federal (FSB) hablando extra-oficialmente a reporteros la mañana del lunes en el Kremlin etiquetó al sitio web social Estadounidense Facebook como el "Arma de Guerra de Información" más peligrosa del mundo y señaló que a menos que sus poderes sean controlados, las libertades de todos en la Tierra les serán arrebatadas por completo. Por: Sorcha Faal y como se informa a sus suscriptores Occidentales.
Es importante destacar que este alto funcionario del FSB ya había apremiado con anterioridad (abril, 2011) a Rusia a prohibir el Skype, Gmail y a Hotmail como "las mayores amenazas para la seguridad nacional", una solicitud rápidamente rechazada por el Kremlin debido a que tal acción sería objeto de burla en el Occidente.

En la evaluación que hizo de Facebook, no obstante, ese alto funcionario del FSB advirtió que, este sitio web, operado, supuestamente de forma privada, es, de hecho, una creación de la Oficina de Alerta de los Estados Unidos (INFORMATION AWARENESS OFFICE - IAO ) cuyo escalofriante logotipo es el "Ojo que Todo lo Ve" remate de la Gran Pirámide brillando su penetrante mirada sobre toda la Tierra y cuya misión prometida para el 2002 (*) es lograr la Alerta de Información Total (TIA) sobre toda la población de los Estados Unidos.

La IAO señala que el TIA se lograría creando enormes bases de datos de computadora para recolectar y almacenar información personal de todos y cada uno de los habitantes de los Estados Unidos, incluyendo correos electrónicos personales, redes sociales, registros de tarjetas de crédito, llamadas telefónicas, antecedentes médicos y otras numerosas fuentes, sin requerir para ello una orden judicial.

El resultado final visto por la IAO es lo que ellos denominan Identificación Humana a Distancia (HumanID) que describe como sigue:

"El proyecto HumanID es una tecnología de identificación biométrica automatizada para detectar, reconocer e identificar a humanos a gran distancia para los propósitos de "protección de fuerza", "prevención del delito" y "seguridad/defensa interna"

Sus objetivos incluyen programas para:
Desarrollar algoritmos para localizar y adquirir sujetos hasta en un rango de 150 metros (500 pies).

Fusionar rostros y forma de caminar en un sistema de identificación humana de 24/7.

Desarrollar y demostrar un sistema de identificación humana que opera hasta150 metros (500 pies) usando imágenes visibles.

Desarrollar un sistema de radar de onda milimétrica de bajo poder para campo ancho de detección de vista y campo estrecho para clasificación de forma de caminar.

Caracterizar la ejecución de la forma de caminar a partir de un video para identificación humana a distancia.

Desarrollar un sistema de reconocimiento de rostro visible multi-espectral e Infra-rojo.
Con el fin de lograr estos insidiosos objetivos, continua indicando ese alto oficial del FSB, la IAO necesitaba encontrar una forma de llegar al pueblo Estadounidense para espiarlos para rodear todas las leyes que los protegen a ellos y a su privacidad y que requería la creación del sitio web social Facebook, que es el sitio Internet más visitado del mundo.

La creación verdadera de Facebook se le atribuye a uno de los más valiosos científicos militares de los Estados Unidos, y que fue jefa de la IAO, la Dra. Anita Jones que, a través de la compañía de capital de riesgo del Departamento de la Defensa (DoD) y de la Agencia Central de Inteligencia (CIA), In-Q.Tel le proporcionó a Facebook, su financiamiento inicial y desde entonces le ha canalizado cientos de millones de dólares.

Desconocido para los usuarios de Facebook es que al convertirse en miembros de ese sitio web social, de hecho, le han entregado al gobierno de los Estados Unidos la propiedad entera y total de todo lo que han hecho, están haciendo ahora, o harán en Internet en el futuro, como lo podemos ver evidenciado en sus propios convenios de Privacidad y de Condiciones de Servicio que ellos autorizaron.

Declaración de Privacidad de Facebook

"Facebook también recolecta información sobre usted de otras fuentes, como diarios y servicios de mensajería instantánea. Esa información es recolectada si usa o no usted este sitio web.

Condiciones de Servicio de Facebook

"Al publicar contenido como Miembro en cualquier parte del sitio web, usted automáticamente concede y usted representa y garantiza que usted tiene el derecho de conceder a Facebook, una licencia mundial irrevocable, perpetua, no-exclusiva, transferible, totalmente pagada (con el derecho a sub-licenciar) para usar, copiar, ejecutar, exhibir, reformatear, traducir, extractar (completo o en parte) y distribuir tal información y contenido y preparar obras derivadas de, o incorporarla a otras obras, tal información y contenido y conceder y autorizar sub-licencias de lo precedente".[/i]-

Todavía peor son los nuevos reportes en los Estados Unidos de que los miembros de Facebook que han colocado sus números telefónicos en ese sitio, sus agendas y directorios personales, mensajes de texto, fotos, etc. (en esencia todo lo que está almacenado en sus teléfonos celulares o dispositivos de teléfonos inteligentes) cargados al sitio sin su aparente consentimiento, a través de esos convenios de Privacidad y Condiciones de Servicio, esa despistada gente, con su autorización al convertirse en miembros de Facebook, lo están permitiendo que suceda.

En cuanto a que la IAO pueda implementar su programa de HumanID a través del Arma de Guerra de Información que es Facebook, ese funcionario del FSB alerta que, ya está en proceso pues Alemania, hace poco advirtió que Facebook está, probablemente, sentándose encima de la base de datos más grande del mundo de información biométrica y nuevos informes procedentes de los Estados Unidos muestran que ya han desplegado el Software de Reconocimiento Facial contra sus billones de usuarios, y como lo podemos leer, en parte, en PCWorld.com:

"No estoy seguro si han escuchado la noticia, pero Facebook, oficialmente, se está haciendo super espeluznante. Facebook anunció el martes que estará implementando la tecnología de reconocimiento facial para todos los usuarios en las próximas semanas, semi-automatizando el proceso de etiquetación de fotos. Seguro, puedes optar por salirte del servicio, pero es un consuelo bastante débil. Después de todo, optar por salirte no evitará que Facebook recolecte datos y reconozca tu rostro, solo evitará que la gente te etiquete automáticamente".[/i]

Este oficial del FSB agrega que Facebook "hizo la prueba piloto" de su Software de Reconocimiento Facial contra la gente que protestaba al opresor régimen de Bahrein, que cuenta con el respaldo de los Estados Unidos, cuando se usó para rastrear a los disidentes consignándolos de esta forma a la violación, la tortura y la muerte.

Igual de peor, en un reporte detallado en octubre 2010 del diario Estadounidense "Examiner" presentó detalles de cómo Facebook ya estaba censurando y suprimiendo varias historias noticiosas en los Estados Unidos, incluyendo las protestas contra el derrame petrolero causado por la BP en el Golfo de México, como lo podemos leer, así:

"Uno de los ataques tipo programa contra-inteligencia llevado a cabo por Facebook.com y documentado por el diario Político fue contra los miembros de Facebook que trataron de organizar un boicot en Facebook contra la BP, uno de los perpetradores corporativos del derrame petrolero del 20 de abril de 2010 en el Golfo de México que ha devastado la ecología, la economía y la población de esa área.

Estas sofisticadas técnicas de ataque de software de espionaje y programa de contra-inteligencia de Facebook solo pudo haberlas empleado con la explícita aprobación de un ejecutivo de la alta administración y de nivel de capital de riesgo de Facebook. Ese alto nivel de Facebook anuncia su fácil y abierto acceso al Presidente Barack Obama, uno de los mayores recipientes de contribuciones de campaña de la BP, y cuyo Secretario de Energía, Steven Chu, recibió una cantidad de $ 500 millones de la BP antes de unirse al gabinete de Obama.

Los investigadores como Vishar Agarwal han demostrado la profundad inter-conexión entre los capitalistas de riesgo detrás de Facebook y el frente de inversión de la CIA, la compañía InQTel, cuyo miembro de la mesa directa, la Dra. Anita Jones fue una alta funcionaria de la DARPA (Agencia de Proyectos de Investigación Avanzada de la Defensa) y de la Oficina de Alerta de Información del Departamento de la Defensa.

Facebook es, de hecho, un activo de Internet controlado de la CIA y la Oficina de Alerta de Información del Departamento de la Defensa (IAO). La IAO fue establecida después de que el Almirante John Poindexter, ex Asesor de Seguridad Nacional del Presidente Ronald Reagan y el ejecutivo de la SAIC, Brian Hicks se acercaran al Departamento de la Defensa con la idea de un programa de alerta de información después de (la operación de falsa bandera del) 11 de septiembre de 2001.

Facebook, la manifestación clandestina de la creación del SAIC y del Almirante John Poindexter, que es la Ofician de Alerta de Información, ya ha infiltrado al 77.4% de todos los 266 millones de usuarios de Internet en América del Norte (todos miembros ya de Facebook) y ha transformado a la Internet en una forma virtual forrada de terciopelo del Fascismo Amigo y de ciudadanía virtual condicional".[/i]

Partiendo de lo sencillo pasando por lo espeluznante hasta llegar a lo aterrador, ese funcionario del FSB advierte que esta Arma de Guerra de Información que es el Facebook pronto "introducirá" a sus miembros a una nueva tecnología que se llama "Tatuaje Dérmico Electrónico" (EST), un parche del espesor de un cabello que se adhiere a la piel como un tatuaje temporal que ellos afirmarán revolucionará el juego y la sensación médica de computadora y que confunde la distinción entre la electrónica y la biología y nos trae a la mente la profecía hecha ya hace tanto tiempo de la "Marca de la Bestia" (Bestia en Inglés: BEAST, chequen bEaST) que la Biblia Cristiana advirtió que en Los Últimos Días uno no podrá ni comprar ni vender sin tener esa marca ya sea en la frente o en la mano.

Al finalizar su información extra-oficial, ese alto funcionario del FSB, destacó que toda la información recolectada por Facebook (y de la que ya son dueños) ha sido transferida al Departamento de Seguridad Interna de los Estados Unidos donde se mantiene en una base de datos terrorista llamada Servicio de Vigilancia de Filtro Terrorista que está cargada con una cantidad desconocida de información personal que incluye nombres, fotografías y datos biométricos de todos los Estadounidenses que son miembros despistados de esta Arma de Guerra de Información.

Aunque muchos grupos Estadounidenses activistas de derechos han protestado contra esta aterradora intrusión a la privacía de los ciudadanos comunes, el Departamento de Seguridad Interna de los Estados Unidos está afirmando que toda la información y contenidos en sus computadoras es confidencial y no se le permite a nadie conocerla.

Y en cuanto a la sociedad que los Estados Unidos ha creado para sí mismos, solo necesitamos leer este reciente informe (2 Agosto 2011) de al-Jazeera sobre lo que vivirán pronto esas gentes:

"Nos estamos acercando rápidamente a un tiempo en que los aparatos de justicia yo no necesitarán pedirle a usted su identificación - su información física ni sus datos biométricos, que son necesarios para identificarlo. Un aditamento agregado a un teléfono móvil puede fotografiar y trazar los puntos clave y rasgos de su rostro (convirtiendo los números en datos biométricos), escaneará el iris de sus ojos y tomará sus huellas digitales al momento.[/i] Este proyecto no existe en un mundo futurista - ya está en etapa de proto-tipo y en proceso de prueba. Para el otoño, el Sistema Móvil de Información y Reconocimiento de Delincuentes (MORIS) que permitirá a 40 agencias de justicia en todo Estados Unidos realizar tales diagnósticos biométricos, ya habrá salido. Hasta ahora, las 1,000 unidades en pedido - a $3,000 y 12.5 onzas por dispositivo- van para los departamentos del alguacil y de la policía.[/i] La descripción más precisa, no obstante, de las vidas de los Estadounidenses de "Facebook", y por extensión del mundo, será vivida como lo describe mejor el gran autor y periodistas Inglés, George Orwell (1903-1950) que advirtió a aquellos que entreguen sus libertades a cambio de seguridad - "Si quieres una visión del futuro, imagínate una bota aplastando un rostro humano, por siempre".

FUENTE ORIGINAL EN INGLÉS y Donativos: Whatdoestitmean.com
http://bolsonweb.com.ar/diariobolson/detalle.php?id_noticia=26001
---
English
---
Rebels Defeated in Misurata. Reports of Rebel Advances on Tripoli are Unsubstantiated
Mahdi Darius Nazemroaya
Global Research
Aug 21, 2011
The mainstream media is reporting that Tripoli is surrounded. Bernard-Henri Lévy, author and adviser to France's president Nicolas Sarkozy has even declared that the regime in Tripoli has collapsed. This is fiction.
NATO and its coalition have launched attacks to the west of Tripoli to surround the capital. They have only managed to temporarily disrupt the supply route from Tunisia to Tripoli. This is part of their strategy of imposing a siege on the Libyan capital.
An estimated 100 to 200 rebel fighters have emerged near the south side of the Zawiyah (Zawiya) District, approximately 50 kilometres (31 miles) west of Tripoli. They claim to have taken over the city of Sorman (Surman). These claims are unsubstantiated.
What happened was that some of the insurgents merely passed through Sormon on the highway on their way to attacking Zawiyah.
The Western media report that the insurgents control most of the city of Zawiyah. This claim is unsubstantiated. In reality, the insurgent forces merely raised the flag of King Idiris I in a remote area of the Zawiyah District and then quickly left that area and did some photo ops for foreign journalists to give the impression that they had a foothold in Zawiyah.
The insurgent fighters only stayed in their location in Zawiyah for a few hours. The local population was hostile towards them and they were afraid to stay longer. Their main aim was to destroy the oil refinery in the area.
NATO and its rebel proxies are attempting to cut supply routes into the Tripoli District by sabotaging transportation routes with Tunisia. In this context, the rebels have also attacked Ras Al-Jedir, which is located on the Tunisian-Libyan border.
The Libyan Military has entered Misurata
While the insurgency and NATO are on the offensive to the west of Tripoli, they have lost their hold on Misurata.
On August 15, 2011, there were early morning celebrations throughout the country as news became public that the Libyan military had entered Misurata.
In Tripoli gunfire could be heard across the city as people celebrated. Western mainstream media reporters in Tripoli were briefed. The relevant information was made available to them. There was news blackout. Not a word was mentioned in the Western press regarding the victory of Libyan armed forces in Misurata.
http://www.prisonplanet.com/rebels-defeated-in-misurata-reports-of-rebel-advances-on-tripoli-are-unsubstantiated.html
---
From The Shadows of The Psyop State: The Terror of Secret Services in Russia, America And The World
Saman Mohammadi
The Excavator
August 20, 2011
We live in an era of medieval brutality and state terror. Iran, Syria, Libya, Iraq, China and Putin's Russia are singled out by the Western media and Western governments as countries where there are no human rights and no freedom of speech.
But America, England, Canada, Australia, France and Israel are also controlled by barbaric, cruel, deceptive and tyrannical governments with official ideologies and state fables that pass for the truth.
Everywhere around the world the people are treated like cattle by governments that act like wolves for the politically connected wealthy, not shepherds for tax-paying citizens.
State-organized crime in America and Western democracies is rampant. There is no rule of law in the West, or any concern for human life.
The false flag 9/11 attacks, 7/7 attacks and the Madrid bombings revealed that Western authoritarian governments are guilty of the same state trick that Russia's FSB periodically uses to defend its power and corrupt interests.
But Western authoritarian governments are forced because of their liberal traditions to be more slick in their propaganda. The media is a trusted political resource to hide the government's dirty deeds from the public by constructing false narratives of history and of violent events like 9/11.
Much of modern American and Western history is a lie. There are two types of history that define our dark age: politically constructed history and real history; or deep history and superficial history; or esoteric history and exoteric history; or gatekeeper history and liberation history.
The first kind of history serves to guard the secrets of state terror and justify state militarism against the public and nations in the Middle East. The second of history is suppressed, censored, and marginalized as "conspiracy theories."
The power to create an artificial history for the masses and shape public perceptions about key events in history as well as the general trend of human affairs is a power that only an Almighty State, backed by a sinister plutocracy and blindly supported by an uninformed public, can have in its possession.
The people who live under an Almighty State, like in America or Iran, are not much different than the blind flock of Jim Jones or any other cult leader.
When leaders in high office or leaders of small congregations are worshipped and believed without question you get cult-produced atrocities, massacres of innocent human beings, and destruction of individual freedoms. You get Stalin, Mao, Saddam and Khomeini. You get North Korea, the Soviet Union and Nazi Germany. You get post-9/11 America, Israel and the West.
The majority of the public does not want to know that the people who control our governments in the West have similar characteristics with serial killers and cult leaders, but it is true.
Since 9/11, we have witnessed the triumph of the Almighty State over the democratic state, fantasy over reality, perception over fact, myth over history, totalitarian lies over scientific truths, state violence over civil peace, cunning propaganda over straight talk, tyranny over freedom, lawlessness of the jungle over the laws of civilization, chaos over order, a two-tiered justice system over equality before the law, and Satan over God.
But the Almighty State will not exist forever. A transformative change in human psychology is happening in America, the west and the world. More and more people are seeing through the lies told by oppressive governments, the mass media and tyrannical rulers to cover up their crimes against humanity.
There is a great need for a World Tribunal on state terrorism, false flag operations, government secrecy, media-state propaganda, and media-state censorship.
The CIA, Mossad, MI6, FSB, and the secret services of Saudi Arabia and Iran, must all be reformed and/or abolished. They are products of an age of state brutality, mass government murder, political corruption, and government secrecy.
I think we should protest globally in front of our governments as well as at the United Nations, and push the sane leaders in our governments to help establish a global citizenry body to get at the roots of international terrorism.
If politicians are too afraid to step up to the plate and demand that the real killers behind 9/11 be brought to justice then that's their problem, not ours.
Nothing should stop us from honouring the victims of state terrorism and hanging the state terrorists behind 9/11. This is a fight against tyranny from the bottom up that is happening across the world. Alex Jones calls it "1776 Worldwide."
The evil elites in America, England and Israel are trying to stop this massive and unique political development in human history by orchestrating an American/Israeli-Iranian Nuclear Winter, creating fake crises, and establishing a global dictatorial government to destroy freedom once and for all.
Richard Falk, a retired professor of international law at Princeton University, the UN Special Rapporteur on Palestinian human rights, and a critic of the official 9/11 story, would be an ideal candidate to sponsor an international commission on state terrorism and state violence.
Professor Peter Dale Scott, author of "Deep Politics and the Death of JFK," and "The War Conspiracy: JFK, 9/11, and the Deep Politics of War," would be another ideal candidate.
Retired CIA officer Ray McGovern would be another good choice. In 2010, when asked by PBS about what kind of reforms would benefit U.S. intelligence agencies, McGovern answered:
Accountability is key. If there is no accountability, there is total freedom to screw up, and screw up royally, without any thought of possible personal consequences.
Legendary whistleblower Daniel Ellsberg would also be a fantastic public representative in an international commission on state terror and state deception. Ellsberg has said that government insiders in Washington routinely keep secrets from the American people and the American media about the most important government decisions and programs. Ellsberg says:
The reality unknown to the public and to most members of Congress and the press is that secrets that would be of the greatest import to many of them can be kept from them reliably for decades by the executive branch, even though they are known to thousands of insiders.
If opened, Washington's treasure chest of state secrets would reveal that current and former leaders in Washington, London and Tel Aviv are guilty of the most horrific crimes against humanity and against their own people.
The majority of the public still likes to think that 9/11 and 7/7 are acts of barbarity committed by an organized group of evil terrorists, not by leaders of civilized, democratic, modern societies, but here we are in the 21st century, still having to face the same barbarians and the same tyrants that plagued the 20th century along with every other century before it.
But this state of affairs does not have to be permanent. We are led by psychopathic savages and political tricksters who don't have the public's best interests at heart because people choose to follow these crazies and mass murderers like cattle.
Remember what happened to Jim Jones's flock. That is the fate of all human flocks — no matter if they are led by a charismatic leader or a national government.
http://www.prisonplanet.com/from-the-shadows-of-the-psyop-state-the-terror-of-secret-services-in-russia-america-and-the-world.html
---
August 13, 2011
Russian Intelligence Calls Facebook "Information Warfare Weapon"
By: Sorcha Faal, and as reported to her Western Subscribers
A senior Federal Security Service (FSB) official speaking off the record to reporters this morning in the Kremlin labeled the US social media website Facebook as the world's most dangerous "Information Warfare Weapon" and stated that unless its powers were curbed the freedoms of everyone on Earth would be stripped away entirely.
Important to note is that this top FSB official had previously (April, 2011) urged Russia to ban Skype, Gmail and Hotmail as "major threats to national security," a request quickly rejected by the Kremlin due to how such a move would be characterized in the West.
In his assessment of Facebook, however, this FSB official warned that this supposedly privately run social media website is, in fact, a creation of the United States Information Awareness Office (IAO) whose chilling logo [top photo right] is the "all seeing eye" capstone of the Great Pyramid shining its penetrating gaze upon the whole Earth and whose avowed 2002 mission statement is to achieve Total Information Awareness (TIA) over the entire population of America.
The IAO states that TIA would be achieved by creating enormous computer databases to gather and store the personal information of everyone in the United States, including personal e-mails, social networks, credit card records, phone calls, medical records, and numerous other sources, without any requirement for a search warrant.
The end result seen by the IAO is what they call Human Identification at a Distance (HumanID) that they describe as:
"The HumanID project is an automated biometric identification technology to detect, recognize and identify humans at great distances for "force protection," crime prevention, and "homeland security/defense" purposes.
Its goals include programmes to:
Develop algorithms for locating and acquiring subjects out to 150 meters (500 ft) in range.
Fuse face and gait recognition into a 24/7 human identification system.
Develop and demonstrate a human identification system that operates out to 150 meters (500 ft) using visible imagery.
Develop a low power millimeter wave radar system for wide field of view detection and narrow field of view gait classification.
Characterize gait performance from video for human identification at a distance.
Develop a multi-spectral infrared and visible face recognition system."
In order to achieve their insidious goals, this FSB official continues, the IAO needed to find a way to get the American people to spy on themselves so as to circumvent all of the laws meant to protect them and their privacy, and which called for the creating of the social media website Facebook, which is now the most visited Internet site in the entire world.
The actual creation of Facebook is attributed to one of America's most valued military scientists, and former head of the IAO, Dr. Anita Jones who through the US Department of Defense (DOD) and the Central Intelligence Agencies (CIA) venture capital company In-Q-Tel provided Facebook with its initial funding and has since then channeled hundreds-of-millions of dollars into it.
Unbeknownst to Facebook users is that by becoming members of this social media website they have, in fact, given to the US government complete and total ownership over anything they have done, are doing now, or will do on the Internet in the future, and as we can see evidenced by their own Privacy and Terms of Service agreements they authorized:
Facebook Privacy Statement
"Facebook also collects information about you from other sources, such as newspapers and instant messaging services. This is information is gathered regardless of your use of the web site."
Facebook Terms of Service
"By posting Member Content to any part of the Web site, you automatically grant, and you represent and warrant that you have the right to grant, to Facebook an irrevocable, perpetual, non-exclusive, transferable, fully paid, worldwide license (with the right to sublicense) to use, copy, perform, display, reformat, translate, excerpt (in whole or in part) and distribute such information and content and to prepare derivative works of, or incorporate into other works, such information and content, and to grant and authorize sublicenses of the foregoing."
Even worse are new reports surfacing in the United States that Facebook members who have entered their phone numbers onto this site have had their entire address books, text messages, photos, etc. (in essence everything stored on their cellphones or smart phone devices) uploaded to the site without their seeming consent, though by the Privacy and Terms of Service agreements these unsuspecting people authorized to become members Facebook they allowed this to happen.
To the IAO being able to implement its HumanID programme through its Information Warfare Weapon Facebook, this FSB official warns, is already underway as Germany recently warned that Facebook is likely sitting atop the world's largest database of biometric information and new reports from the United States show that they have now deployed Facial Recognition Software against their billions of users, and as we can, in part, read as reported by PCWorld.Com:
"I'm not sure if you've heard the news, but Facebook is officially getting super-creepy. Facebook announced Tuesday that it will be implementing facial recognition technology for all users in the next few weeks, semi-automating the photo-tagging process. Sure, you can "opt-out" of the service, but it's a pretty weak consolation. After all, opting out won't keep Facebook from gathering data and recognizing your face--it'll just keep people from tagging you automatically."
This FSB official further states that Facebook "pilot-tested" their Facial Recognition Software against people protesting the oppressive US-backed regime of Bahrain when it was used to hunt down dissidents thus consigning them to rape, torture and death.
Equally as worse, an in-depth October, 2010 report by the American newspaper Examiner detailed how Facebook was already censoring and suppressing various news stories in the United States, including keeping protests from starting against the BP oil spill, and as we can, in part, read:
"One of the cointelpro-type attacks carried out by Facebook.com and documented by mainstream media newspaper Politico was against Facebook members who attempted to organize a boycott on Facebook.com against BP, one of the corporate perpetrators of the April 20, 2010 BP Gulf of Mexico oil spill that has devastated the ecology, economy, and population of the Gulf area.
These sophisticated spying and cointelpro Facebook.com software attack techniques could only be employed with the explicit approval of an upper management executive and venture capital level at Facebook.com. This Facebook.com upper level advertises its easy, open access to U.S. President Barack Obama, one of the largest recipients of campaign contributions from BP, and whose Secretary of Energy, Steven Chu, received a $500 million grant from BP prior to joining the Obama cabinet.
Researchers such as Vishar Agarwal have demonstrated the deep interconnection between venture capitalists behind Facebook.com and the Central Intelligence Agency investment front company InQTel, whose Board member Dr. Anita Jones was a former high-ranking official of DARPA and of the U.S. Department of Defense Information Awareness Office.
Facebook.com is the de-facto controlled Internet asset of the CIA and Department of Defense Information Awareness Office (IAO), "The IAO was established after Admiral John Poindexter, former United States National Security Advisor to President Ronald Reagan and SAIC executive Brian Hicks approached the US Department of Defense with the idea for an information awareness program after the [false flag operation] of September 11, 2001."
Facebook.com, the clandestine manifestation of SAIC and Admiral John Poindexter's brainchild Information Awareness Office (IAO) that has now infiltrated 77.4% of all 266 million Internet users in North America (all of whom are now Facebook.com members), and has transformed the Internet into a velvet-gloved virtual form of Friendly Fascism, and conditional virtual citizenship."
Going from the simply scary to the downright horrifying about Facebook was this FSB official warning that this Information Warfare Weapon will soon "introduce" to its members a new technology called an Electronic Skin Tattoo (EST), a hair-thin electronic patch that adheres to the skin like a temporary tattoo they will claim will revolutionize computer gaming and medical sensing and that blurs the distinction between electronics and biology and brings to ones mind the long prophesied "Mark of the Beast" [bEaST] that the Christian Bible warned that in the "Last Days" no one could buy or sell anything without having one on either their forehead or hand.
In ending his off the record briefing this senior FSB official noted that all of the information gathered by Facebook (and which they now own) has been transferred to the US Department of Homeland Security where it is kept in a massive terror database called the Terror Screening Watchlist Service that is loaded with an unknown amount of personal information, including names, photographs and biometric data of all Americans who are unwitting members of this Information Warfare Weapon.
Though many American rights groups have spoken out against this frightful intrusion into the privacy of ordinary citizens the US Department of Homeland Security is claiming that all information contained in their computers is confidential and no one is allowed to know about it.
And to the society that the United States has created for itself we need only read this recent (2 August 2011) report from Aljazeera about the life these people are soon to live:
"We're fast approaching a time when law enforcement will no longer need to ask you for your identification - your physical self, and the biometric data therein, are all that will be required to identify you.
A gadget attached to a mobile phone can photograph and plot key points and features on your face (breaking the numbers down into biometric data), scan your iris and take your fingerprints on the spot.
This gizmo doesn't exist in a futuristic world - it's already been prototyped and tested. By autumn, the Mobile Offender Recognition and Information System (MORIS), which will allow 40 law enforcement agencies across the US to carry out such biometric diagnostics, will be rolled out. So far, the 1,000 units on order - at $3,000 and 12.5 oz per device - will be going to sheriff and police departments."
The most accurate description, however, of the lives these "Facebook" Americans, and by extension the world, will be living was best described by the great English author and journalist George Orwell (1903-1950) who warned all of those who would give up their liberties for safety… "If you want a vision of the future, imagine a boot stamping on a human face - forever."
August 13, 2011 EU and US all rights reserved. Permission to use this report in its entirety is granted under the condition it is linked back to its original source at WhatDoesItMean.Com.
[Ed. Note: Western governments and their intelligence services actively campaign against the information found in these reports so as not to alarm their citizens about the many catastrophic Earth changes and events to come, a stance that the Sisters of Sorcha Faal strongly disagrees with in believing that it is every human beings right to know the truth. Due to our missions conflicts with that of those governments, the responses of their 'agents' against us has been a longstanding misinformation/misdirection campaign designed to discredit and which is addressed in the report "Who Is Sorcha Faal?".]
http://www.whatdoesitmean.com/index1511.htm
---
Assassinations by induced heart attack and cancer

Press Core
Thu, 16 Dec 2010 08:04 CST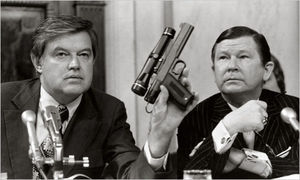 The 1975 Church Committee hearings
In 1975, during the Church Committee hearings, the existence of a secret assassination weapon came to light. The CIA had developed a poison that caused the victim to have an immediate heart attack. This poison could be frozen into the shape of a dart and then fired at high speed from a pistol. The gun was capable of shooting the icy projectile with enough speed that the dart would go right through the clothes of the target and leave just a tiny red mark. Once in the body the poison would melt and be absorbed into the blood and cause a heart attack! The poison was developed to be undetectable by modern autopsy procedures.

Can you give a person cancer? If cancer in animals can be caused by injecting them with cancer viruses and bacteria, it would certainly be possible to do the same with human beings! In 1931, Cornelius Rhoads, a pathologist from the Rockefeller Institute for Medical Research, purposely infects human test subjects in Puerto Rico with cancer cells; 13 of them died. Though a Puerto Rican doctor later discovers that Rhoads purposely covered up some of the details of his experiment and Rhoads himself gives a written testimony stating he believes that all Puerto Ricans should be killed, he later goes on to establish the U.S. Army Biological Warfare facilities in Fort Detrick Maryland (origin of the HIV/AIDS virus, the Avian Flu virus and the Swine Flu / A-H1N1 virus), Utah and Panama, and is named to the U.S. Atomic Energy Commission, where he begins a series of radiation exposure experiments on American soldiers and civilian hospital patients.

The answer to the question - Can you give a person cancer - is yes. After nearly 80 years of research and development there is now a way to simulate a real heart attack and to give a healthy person cancer. Both have been used as a means of assassination. Only a very skilled pathologist, who knew exactly what to look for at an autopsy, could distinguish an assassination induced heart attack or cancer from the real thing.

Is death by heart attack, burst aneurysm, of cerebral hemorrhage a "natural cause"? Not if government agencies have found a way to influence your heart rate, blood pressure, or vascular dilatation. Neurological research has found that the brain has specific frequencies for each voluntary movement called preparatory sets. By firing at your chest with a microwave beam containing the ELF signals given off by the heart, this organ can be put into a chaotic state, the so-called heart attack. In this way, high profile leaders of political parties who are prone to heart attacks can be killed off before they cause any trouble. Jack Ruby died of cancer a few weeks after his conviction for murder had been overruled in appeals court and he was ordered to stand trial outside of Dallas - thus allowing him to speak freely if he so desired. There was little hesitancy in Jack Ruby killing Lee Harvey Oswald in order to prevent him from talking, so there is no reason to suspect that any more consideration would have been shown Jack Ruby if he had posed a threat to people in the US government who had conspired to murder the president of the United States - John F Kennedy.

Matt Simmons, an oil industry expert, was assassinated for turning whistle blower over the Obama administration coverup of the BP Gulf Oil Spill. Investment banker Matt Simmons, who died suddenly, was an energy industry insider and presidential adviser whose profile soared when he wrote that Saudi Arabia is running out of oil and world production is peaking. Simmons, 67, died at his vacation home in Maine. An autopsy by the state medical examiner's office concluded Monday that he died from accidental drowning "with heart disease as a contributing factor."

His 2005 best-selling book, Twilight in the Desert: The Coming Saudi Oil Shock and the World Economy, brought him a wider audience. The book argued that Saudi Arabia vastly overstated the size of its oil reserves and that the world was on the verge of a severe oil shortage as the largest oil fields become depleted. This revelation is backed up by Iran. Iran knows the Middle East oil supply is quickly drying up and for that reason it is now focusing on building nuclear reactors. Once the oil runs out Iran will be the only country in the Middle East that will be energy self-sufficient. All of the other Middle Eastern countries, including Saudi Arabia will become Third World impoverished states.

Former Yugoslav President Slobodan Milosevic was also assassinated. He was found dead in the detention center at The Hague tribunal. Mr Milosevic faced charges of war crimes and crimes against humanity for his alleged central role in the wars in Bosnia, Croatia and Kosovo during the 1990s. He also faced genocide charges over the 1992-95 Bosnia war, in which 100,000 people died.

Milosevic wrote a letter one day before his death claiming he was being poisoned to death in jail. An autopsy verified his claim as it showed that Milosevic's body contained a drug that rendered his usual medication for high blood pressure and his heart condition ineffective, causing the heart attack that led to his death.

Former MI6 agent Richard Tomlinson told reporters that he saw documents in 1992 that discussed assassinating Milosevic by means of a staged car accident, where the driver would be blinded by a flash of light and remote controlled brake failure enacted to cause the crash. This exact same technique was utilized for real in the murder of Princess Diana.

If Milosevic was murdered, who would ultimately be responsible? NATO. Why NATO? Because, though the ICTY (or 'Hague Tribunal') presents itself to the world as a UN body, NATO officials have themselves made clear, in public, that it really belongs to NATO. NATO appointed the prosecutors, and the judges who ruled out investigating any war crimes accusations against NATO. It follows that Slobodan Milosevic, who was a prisoner of the Hague Tribunal's Scheveningen prison when he died, was a prisoner of NATO. NATO had both motive and opportunity to kill him.

In March 2002, Milosevic presented the NATO controlled Hague tribunal with FBI documents proving that both the United States government and NATO provided financial and military support for Al-Qaeda to aid the Kosovo Liberation Army in its war against Serbia. This didn't go down too well at the Pentagon and the White House, who at the time were trying to sell a war on terror and gearing up to justify invading Iraq.

During Milosevic's trial for war crimes NATO alleged that the Serbs had committed a massacre of Albanian civilians in the Kosovo town of Racak. Evidence presented in the court showed that NATO's claim was a hoax. This is especially embarrassing because the allegation of a massacre at Racak was the excuse that NATO used to begin bombing the Serbs on 24 March 1999 (the carpet bombing were done by the United States Air Force -authorized by then president Bill and Hillary Clinton). Then NATO claimed that the Serbs had supposedly been murdering 100,000 Albanian civilians. However, NATO's own forensics reported that they could not find even one body of an Albanian civilian murdered by Milosevic's forces. The failure to find any bodies eventually led to NATO's absurd claim that the Serbs had supposedly covered up the genocide by moving the many thousands of bodies in freezer trucks deep into Serbia (while Bill Clinton was carpet bombing the place) without leaving a single trace of evidence. But the Hague tribunal showed these accusations to be entirely fraudulent as well.

Milosevic made several speeches in which he discussed how a group of shadowy internationalists had caused the chaos in the Balkans because it was the next step on the road to a "new world order."

During a February 2000 Serbian Congressional speech, Milosevic stated,
"Small Serbia and people in it have demonstrated that resistance is possible. Applied at a broader level, it was organized primarily as a moral and political rebellion against tyranny, hegemony, monopolism, generating hatred, fear and new forms of violence and revenge against champions of freedom among nations and people, such a resistance would stop the escalation of modern time inquisition. Uranium bombs, computer manipulations, drug-addicted young assassins and bribed of blackmailed domestic thugs, promoted to the allies of the new world order, these are the instruments of inquisition which have surpassed, in their cruelty and cynicism, all previous forms of revengeful violence committed against the mankind in the past."
Evidence linking Milosevic to genocides like Srebrenica, in which 7,000 Muslims died, was proven to be fraudulent. In fact, Srebrenica was a 'UN safe zone', yet just like Rwanda, UN peacekeepers deliberately withdrew and allowed the massacre to unfold, then blamed Milosevic. Milosevic's exposure of UN involvement in the Srebrenica massacre was another reason why tribunal transcripts were heavily edited and censored by NATO, and another contributing factor for NATO to murder him while he was in their custody.

NATO's Hague Tribunal was clearly a kangaroo court whose sole purpose was to convince ordinary people all over the world that NATO's destruction of Yugoslavia was justified. Since NATO failed to show this in its own court (a total absence of evidence did make this difficult), there is indeed a powerful NATO motive to murder Milosevic - to prevent his acquittal. In this way, NATO can continue to claim that Milosevic was guilty, and nobody would begin to look into the mountain of evidence that showed that it was NATO leaders (particularly US president Bill Clinton) who committed war crimes, crimes against humanity and genocide in Yugoslavia.

So many people have been done in by cancer at a convenient time in history that it is now time to ask the question "who is assassinating people by giving their target cancer or inducing a massive heart attack"? Who ordered the hits and why?

Mr. Charles Senseney, a CIA weapon developer at Fort Detrick, Maryland, testified before the Senate Intelligence Committee in September 1975 where he described an umbrella poison dart gun he had made. He said it was always used in crowds with the umbrella open, firing through the webing so it would not attract attention. Since it was silent, no one in the crowd could hear it and the assassin merely would fold up the umbrella and saunter away with the crowd. Video footage of the assassination of John F Kennedy shows this umbrella gun being used in Dealey Plaza. Video evidence of the events of November 22, 1963 shows that the first shot fired on the fateful day had always seemed to have had a paralytic effect on Kennedy. His fists were clenched and his head, shoulders and arms seemed to stiffen. An autopsy revealed that there was a small entrance wound in his neck but no evidence of a bullet path through his neck and no bullet was ever recovered that matched that small size.

Charles Senseney testified that his Special Operations Division at Fort Detrick had received assignments from the CIA to develop exotic weaponry. One of the weapons was a hand-held dart gun that could shoot a poison dart into a guard dog to put it out of action for several hours. The dart and the poison left no trace so that examination would not reveal that the dogs had been put out of action. The CIA ordered about 50 of these weapons and used them operationally. Senseney said that the darts could have been used to kill human beings and he could not rule out the possibility that this had been done by the CIA.

A special type of poison developed for the CIA induces a heart attack and leaves no trace of any external influence unless an autopsy is conducted to check for this particular poison. The CIA revealed this poison in various accounts in the early 1970s. The CIA even revealed the weapon that fired those darts that induces a heart attack at a congressional hearing. The dart from this secret CIA weapon can penetrate clothing and leave nothing but a tiny red dot on the skin. On penetration of the deadly dart, the individual targeted for assassination may feel as if bitten by a mosquito, or they may not feel anything at all. The poisonous dart completely disintegrates upon entering the target. The lethal poison then rapidly enters the bloodstream causing a heart attack. Once the damage is done, the poison denatures quickly, so that an autopsy is very unlikely to detect that the heart attack resulted from anything other than natural causes. A former CIA agent disclosed that the darts were made of a frozen form of the liquid poison. She disclosed that the dart would melt within the target and would only leave a very tiny red dot at the entry point - the same type of small entrance wound that was found during the autopsy of John F Kennedy.

For over 50 years assassinations have been carried out so skillfully as to leave the impression that the victims died from natural causes. Details of some of the techniques used to achieve this were brought to light in 1961 when professional KGB assassin Bogdan Stashinskiy defected to the West and revealed that he had successfully performed two such missions. In 1957 he killed Ukrainian emigré writer Lev Rebet in Munich with a poison vapor gun which left the victim dead of an apparent heart attack. In 1959, the same type of weapon was used on Ukrainian emigré leader Stepan Bandera, although Bandera's death was never fully accepted as having been from natural causes.

Among the witnesses, important people and conspirators who might have been eliminated by induced heart attack and cancer are: Jack Rudy (died of a stroke due to an undiagnosed form of aggressive cancer, just weeks after he agreed to testify before Congress about the JFK assassination), Clay Shaw, J. Edgar Hoover, Earlene Roberts (Oswald's land-lady), Marlyn Monroe, Slobodan Milosevic, Kenneth Lay (former CEO of ENRON - the largest political campaign contributor of Gorge W Bush and Dick Cheney), Matt Simmons, Mark Pittman (a reporter who predicted the financial crisis and exposed Federal Reserve misdoings. Pittman fought to open the Federal Reserve to more scrutiny), Elizabeth Edwards (suddenly diagnosed with cancer while her husband was campaigning against Barack Obama and Hillary Clinton for the presidency of the United States. During a campaign speech to the Council on Foreign Relations in May 2007, Edwards called the War on Terrorism a slogan that was created for political reasons and that it wasn't a plan to make the United States safe. He went further to compare it to a bumper sticker and that it had damaged the US's alliances and standing in the world.), ... enter here the names of every politically outspoken person, whistle blower or witness who died unexpectedly of a heart attack or who quickly died of an incurable cancer.
http://www.sott.net/articles/show/232912-Assassinations-by-induced-heart-attack-and-cancer
---